In House Corporate Cardiac Screening
Approximately 10,000 sudden cardiac arrests occur in workplaces in the United States each year.
Early Detection Saves Lives
Sudden Cardiac Arrest (SCA)
30 Minute Comprehensive Cardiac Screening
Performed by qualified technologists & reviewed by Board Certified Cardiologists

What is an Echocardiogram? (Echo)
An Echocardiogram (echo), or cardiac ultrasound, is a test that displays moving images of the heart.  This test is like the ultrasound pictures taken during early pregnancy in women.  It can identify problems with the heart's structure and pumping function. This ultrasound is quick, simple, and painless.
Issues such as Mitral Valve Prolapse (MVP), Aortic Stenosis, Valvular Regurgitation, Congestive Heart Failure (CHF), Left Ventricular Hypertrophy (LVH), Hypertrophic Cardiomyopathy (HCM), Pulmonary Hypertension and more can be detected by echo.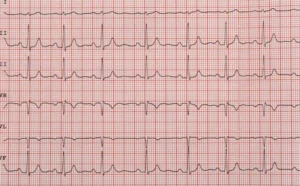 What is an Electrocardiogram? (EKG)
An Electrocardiogram (EKG) is a test that measures the electrical activity of the heart.  Like the echo, an EKG is quick, simple, and painless. Electrodes are placed on the chest to record the heart's electrical signals, which cause the heart to beat.
The EKG can detect rhythm disorders including Atrial Fibrillation, Premature or Skipped Beats (PVCs/PACs), rapid or slow heart rate, Long QT, Wolfe-Parkinson-White (WPW), and others.
Why Have Cardiac Screening?
Take Early Detection to Heart
For a fraction of the cost At Work
EARLY DETECTION DELIVERED AT WORK
At Heartfelt we understand that safeguarding the health and well-being of your employees is extremely important to your company.  Heartfelt's corporate cardiac screening program provides convenient, affordable, and comprehensive cardiac screenings to identify the hidden risk factors associated with Sudden Cardiac Arrest (SCA).  Sudden cardiac death is the number one killer in the United States. Our on-site cardiac screening offers your company the ability to safely and conveniently provide screening Electrocardiograms (EKGs/ECGs) and Echocardiograms (cardiac ultrasound) to your employees at your corporate location: a cost-effective and administratively efficient option.
These two tests are generally considered the most effective screening tools available and may help uncover significant heart conditions that could lead to Sudden Cardiac Death.
NO LONG WAITS OR COMPLICATED SCHEDULING CHALLENGES
Heartfelt at Work will eliminate lengthy delays, limited availability, and often burdensome scheduling requirements.  
For the past 23 years, Heartfelt has provided cardiac screening to over 55,000 people, resulting in over 1,000 lives being saved.  We would consider it a privilege to provide your company with the peace of mind that comes from our early detection program, and comfort in knowing that you are preventing the unexpected loss of your most valued asset: your employees.
CONVENIENCE, COMFORT, PRIVACY
Heartfelt's corporate cardiac screening services offer the advantages of administering health benefits in a more efficient and cost-effective manner by allocating labor, time, and resources more effectively at your place of business. On-site cardiac screening increases productivity by eliminating time away from the workplace.
Safeguard your employees' cardiac health:
Complete the form to schedule an on-site cardiac screening for your company!