On-Site Cardiac Screening
At Heartfelt we understand that safeguarding the health and well-being of your employees is extremely important to your company.  Heartfelt's corporate cardiac screening program provides convenient, affordable, and comprehensive cardiac screenings to identify the hidden risk factors associated with Sudden Cardiac Arrest (SCA).  Sudden cardiac death is the number one killer in the United States. Our on-site cardiac screening offers your company the ability to safely and conveniently provide screening Electrocardiograms (EKGs/ECGs) and Echocardiograms (cardiac ultrasound) to your employees at your corporate location: a cost-effective and administratively efficient option.
For the past 20 years, Heartfelt has provided cardiac screening to over 50,000 people, resulting in over 1,000 lives being saved.  We would consider it a privilege to provide your company with the peace of mind that comes from our early detection program, and comfort in knowing that you are preventing the unexpected loss of your most valued asset: your employees.
Heartfelt's corporate cardiac screening services offer the advantages of administering health benefits in a more efficient and cost-effective manner by allocating labor, time, and resources more effectively at your place of business. On-site cardiac screening increases productivity by eliminating time away from the workplace.
Employer Benefits
Improves Health & Well Being: Heartfelt cardiac screenings can detect the general risks of Sudden Cardiac Arrest before a tragedy occurs.
Less Absenteeism: Cardiac disease that is detected early, can require less extensive medical treatment and far fewer days away from work. Early detection can prevent a catastrophic event.
Greater Productivity: A Heartfelt screening takes just 15 minutes. In the same time as an average coffee break, an employee can have a potentially life-saving cardiac screening.
Reduced Short-Term and Long-Term Disability Pay:  Early detection could potentially help employers avoid or reduce disability expenses.
Enhanced Employer-Employee Relationship: Employers are in constant search for new ways to offer more benefits.  Many employees might never have access to this life-saving screening without this on-site opportunity.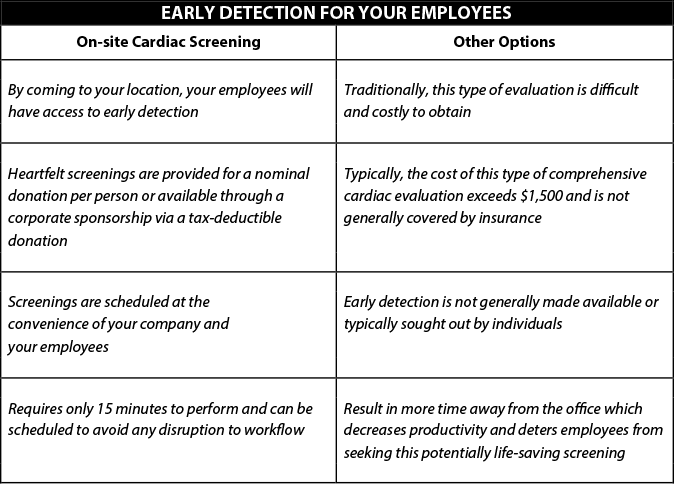 Sudden Cardiac Arrest (SCA) vs. Heart Attack
The terms "Sudden Cardiac Arrest" and "Heart Attack" are often used interchangeably but they are quite different.
A circulation problem of the heart causes a heart attack when one or more of the arteries delivering blood to the heart are blocked. Oxygen in the blood cannot reach the heart muscle, and the heart muscle becomes damaged. You can think of a heart attack as a "plumbing problem" in the heart.
In contrast to a heart attack, sudden cardiac arrest is caused by an "electrical problem" in the heart. It occurs when the heart's lower chambers (ventricles) suddenly develop a rapid, irregular rhythm (ventricular fibrillation) causing the ventricles to quiver rather than contract. The chaotic quivering motion of the ventricles renders the heart an ineffective pump that can no longer supply the body and brain with oxygen.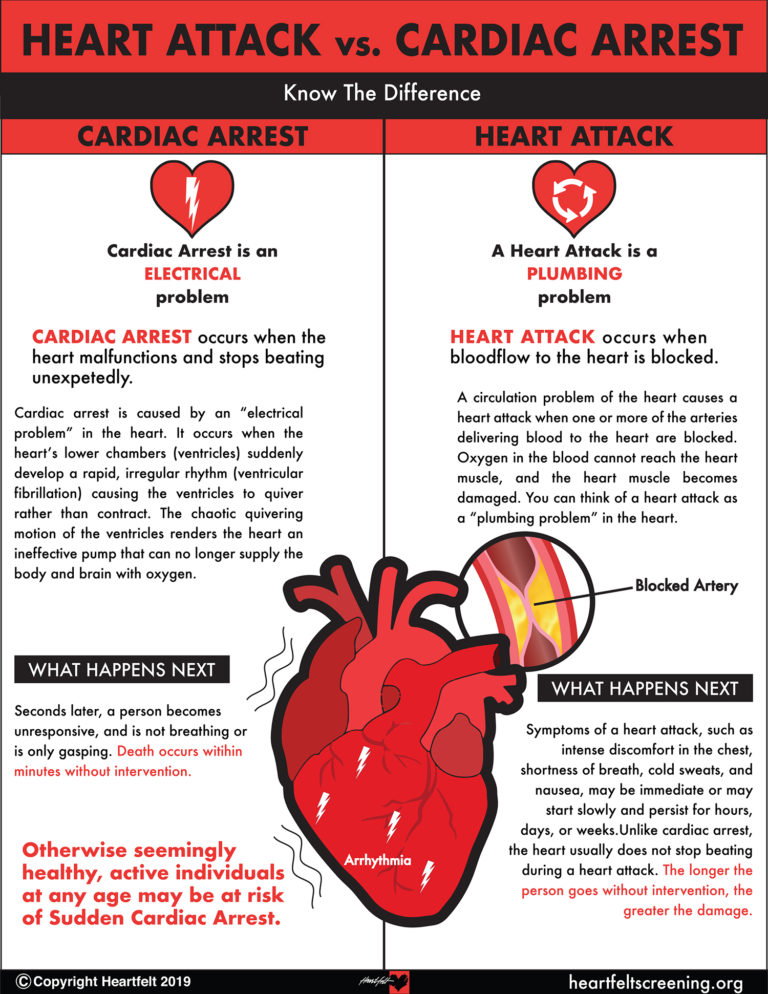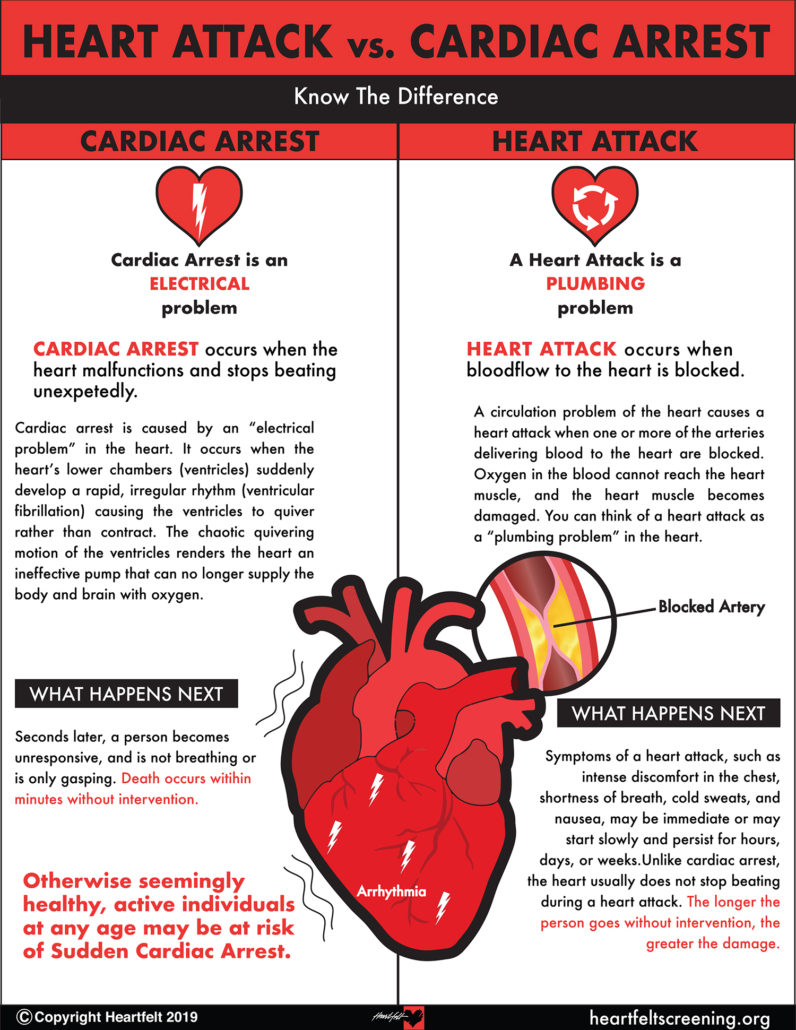 Facts About Sudden Cardiac Arrest (SCA)
SCA is the #1 Killer of Americans
SCA is the #1 Killer of Women
A Young Athlete Dies from SCA every 3 days in the U.S.
The survival rate from SCA without immediate defibrillation intervention is less than 10%
Every year 10,000 employees lose their lives to SCA while at work *
Early Detection Saves Lives!
*OSHA pub. 3185-09N 2003, "Saving Sudden Cardiac Arrest Victims in the Workplace"
Safeguard your employees' cardiac health:
Contact Heartfelt at 949-494-6575 or info@heartfeltscreening.org to schedule an on-site cardiac screening for your company!